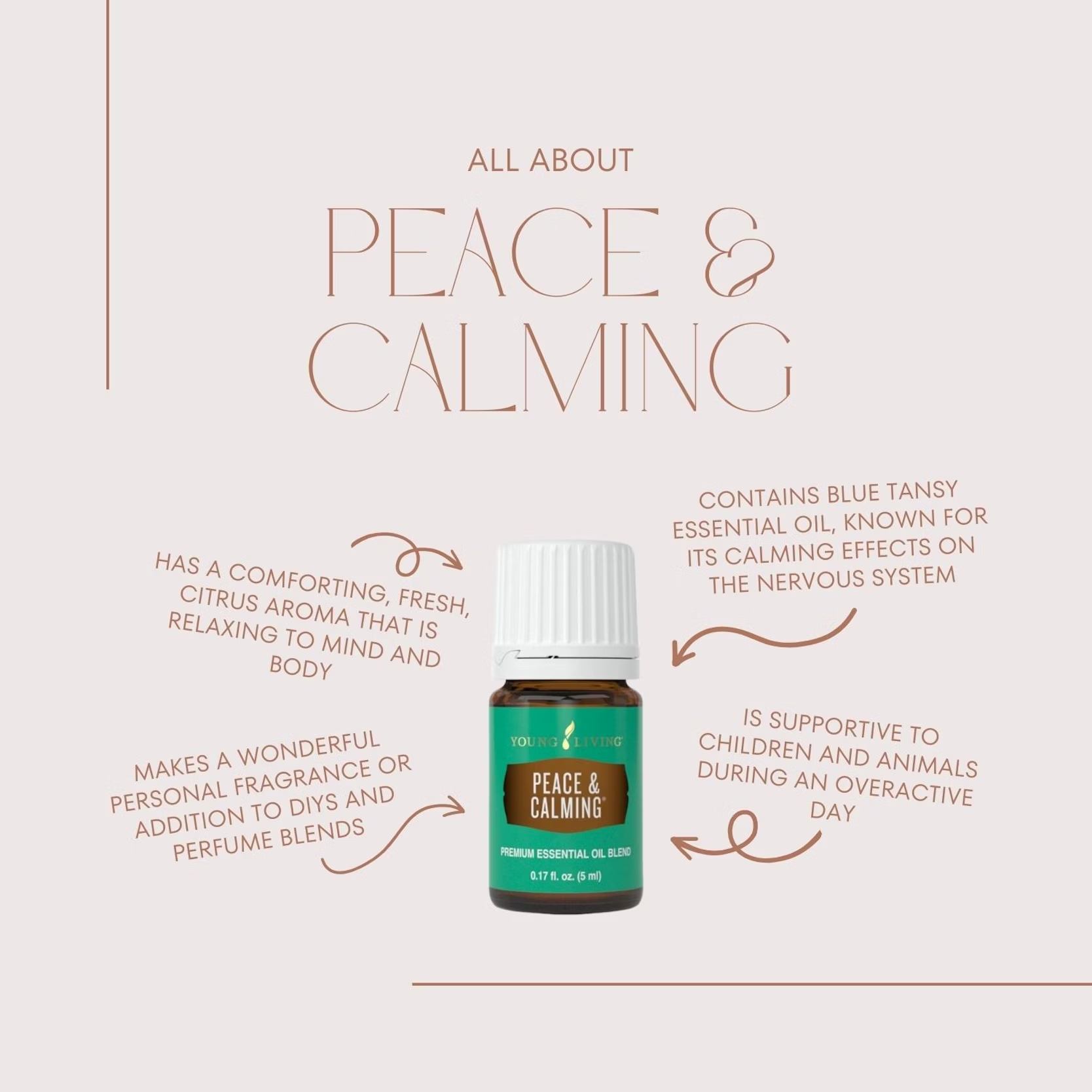 PEACE & CALMING SPOTLIGHT
Peace and Calming is one of Young Living's most popular blends, and for good reason! This blend of Tangerine, Orange, Ylang Ylang, Patchouli, and Blue Tansy will surely become a favorite in your family to relax the body and calm emotions. This oil can signal overtired and overworked body systems that it is a safe space to release stress and invite in a sense of calm. It is also one of our favorites for supporting sweet, restful sleep!
JUST A DROP OF PEACE & CALMING
Has a comforting, fresh, citrus aroma that is relaxing to mind and body
Makes a wonderful personal fragrance or addition to DIYs and perfume blends
Contains Blue Tansy essential oil, known for its calming effects on the nervous system
Creates a peaceful environment for yoga, prayer, journaling, or meditation
Is supportive to children and animals during an overactive day
Peace & Calming is great to diffuse to create a positive, peaceful atmosphere and to set the stage for relaxation or sleep. This Young Living exclusive is made with essential oils that contain some of the highest naturally occurring levels of the constituent limonene, a wonderful support tool for both body and mind. This blend also has Ylang Ylang essential oil, another crowd favorite, that contributes to its slightly sweet aroma.
Join us as we use this oil during our Sweet Sleep Challenge and give our bodies, minds, and emotions some really great rest.
August Supplement of the Month
Immugummies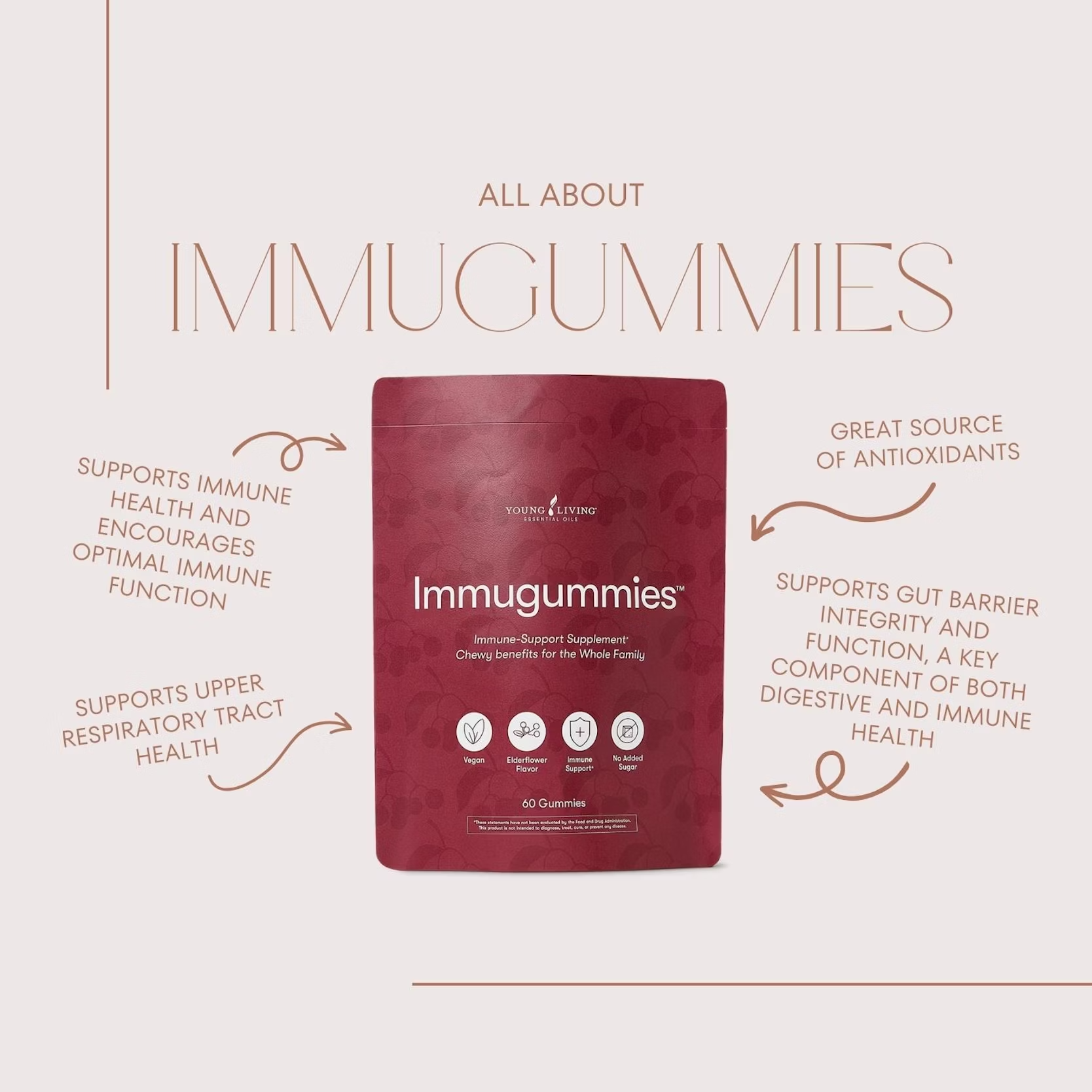 IMMUGUMMIES AT A GLANCE
A unique fusion of elderberry and elder leaf with lime essential oil
Supports immune health and encourages optimal immune function
Supports upper respiratory tract health
Great source of antioxidants
Contains beta-glucans, a compound that helps protect against oxidative stress
Supports gut barrier integrity and function, a key component of both digestive and immune health
Has a great taste and zero added sugar
Vegetarian and vegan-friendly formula is great for ages 4 and up
Support your family's wellness with our the Immugummies daily supplement! These delicious elderflower- and lime-flavored gummies are more than just a sweet treat. They naturally support optimal immune function, immune health, and upper respiratory tract health.
Packed with power, flavor, and pure algal beta-glucans, these gummies are a daily must-have for a healthy immune system.
ELDERBERRY & ELDERFLOWERElderberry and elderflower are two different parts of the same medicinal shrub, and both can be used for their health benefits! While similar, they each have distinct properties that can be used for immune and respiratory health.
Elderberries have been utilized in traditional folk medicine for thousands of years. In European folklore, elderberry consumption was associated with increased longevity and vigor! They are a great source of antioxidants, dietary fiber and vitamins, and are a wonderful way to provide immune support for the body.
Elderflowers are the flowers of the same plant that bloom before the berries form. They have a slight sweet, floral taste, making them a popular choice for teas and cordials. Elderflowers have been shown to have up to two times higher antioxidant activity than the berries due to a higher phenolic content, and they are great for supporting the respiratory system.
KEY INGREDIENTS
1,3 beta-glucans (from Euglena gracilis algae): Beta- glucans support immune health, immune function, and upper respiratory tract health. They're sourced through a sustainable indoor fermentation process to reduce waste and prevent harm to marine ecosystems.
Elderberry fruit juice concentrate: This ingredient contains antioxidants that combat free radicals and support the immune system.
Elderflower natural flavor: Flowers from the elder tree have been used for centuries to support a healthy respiratory system.
Lime essential oil: This zesty oil is a good source of d-limonene, a terpene that has antioxidant properties
FULL INGREDIENT LISTTapioca fiber, Allulose, Sorbitol, Water, Pectin, Beta glucans (from Euglena gracilis extract), Elderflower natural flavor, Citric acid, Elderberry (Sambucus nigra) fruit concentrate, Medium chain triglycerides, Carnauba wax, Tapioca starch, Reb M, Purple carrot extract, Blueberry extract, Sodium citrate, Lime (Citrus latifolia) peel essential oi
HOW TO USE IMMUGUMMIES
Adults and children ages 4 and up, take 2 gummies daily.
Enjoy anytime,with or without food.