skincare isn't just for your face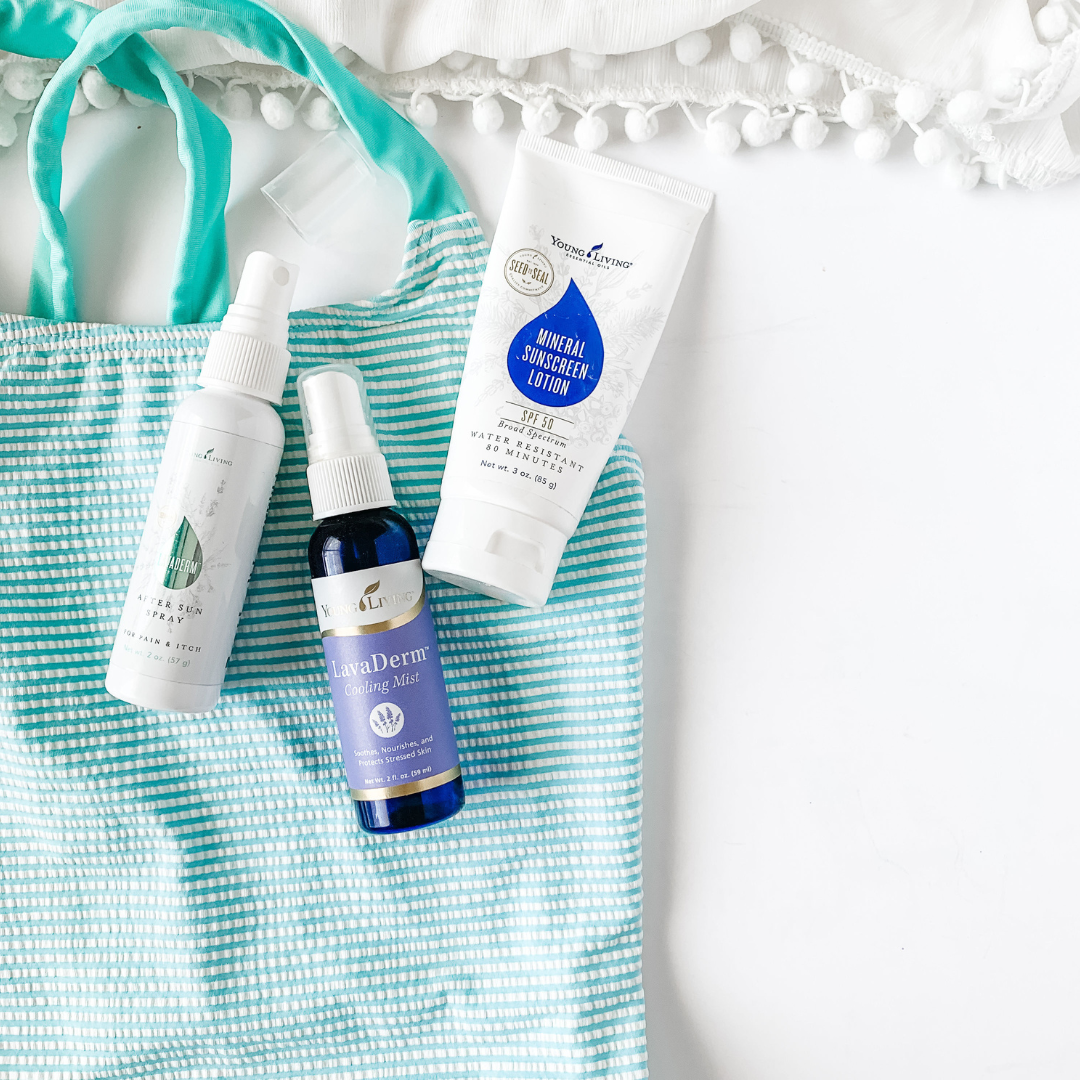 Protecting our skin and caring for our skin before and after we've been in the sunshine is important too! I don't know about you, but I just want to soak in every second of the warmth of the sun while staying safe and healthy. Here are our top three necessities for safe, healthy fun in the sun!
Protect tender skin with the power of plants with YL's Mineral Sunscreen. This product is reef safe, free from harsh chemicals, and great for children and adults, so the whole family can enjoy the outdoors worry-free. Mineral Sunscreen is made with non-nano zinc oxide to give you confidence and peace of mind that you are choosing the safest sun protection for yourself, your family, and the planet. A little goes a long way with this water-resistant formula, so it's definitely a staple in our households!
Apply liberally to clean, dry skin 15 minutes before sun exposure.

Reapply after 80 minutes of swimming or sweating.

Reapply immediately after towel drying or at least every 2 hours.
Insect Repellent from Young Living is a natural, essential oil-infused alternative to traditional bug repellent that effectively prevents mosquito, flea, and tick bites. This means you and yours can enjoy the outdoors without the pesky pests! This insect repellant is a crowd favorite because it works, it's safe for the whole family (no deet here!), and it's super convenient. We love the liquid, and it is also available in convenient wipes!
Dispense into hand and apply evenly over exposed skin.
The name of this product says it all! Lavaderm is SO soothing to tender skin of any kind - from sunburns, bug bites, rug or trampoline burns, really anything that needs soothing. This spray combines Lavender and Peppermint with carrier oils that spray directly onto the skin - no rubbing required. Using menthol from mint, this spray soothes and cools the skin, providing immediate relief from the effects of outdoor activity.
Spray on the affected area up to 4 times daily or as needed for skin needs.
The 7 signs of aging skin are:
Top Enemies of the skin are:
Sun, pollution, stress, smoking
THE IMPORTANCE OF HYDRATION
Water is extremely important to skin health. Low hydration is very problematic to your skin. Your skin also needs vitamins, minerals, collagen, glucosamine, enzymes, hyaluronic acid, etc. How do we get these nutrients? From food, from supplements, and from facial care products!
Skin is like a sponge, it absorbs EVERYTHING. It is especially sensitive to petrochemicals, and petrochemicals absorb in your skin, accumulate in organs/ tissues, and wreak all kinds of havoc. Sadly petrochemicals are in most personal care products.
Did you know that the beauty industry is unregulated and makes over $382 billion/year in the US alone! The problem is that no one is being held responsible for using safe or healthy ingredients. Most products on the market today are filled with toxins that are being absorbed into the body through the skin. Here are just three:
Petrochemicals, also known as crude oil are. "occlusive" or, they create a barrier on your skin and doesn't allow moisture in. From makeup to moisturizers, a TON of beauty products contain ingredients derived from crude oil. Some petrochemicals are also known carcinogens.
Parabens are widely used preservatives that prevent the growth of bacteria, mold, and yeast in cosmetic products. Sounds good, right? Not so fast, they do more than that. Parabens possess estrogen-mimicking properties that are associated with an increased risk of breast cancer. These chemicals are absorbed through the skin and have been identified in biopsy samples from breast tumors. They can be found in makeup, body washes, deodorants, shampoos, and facial cleansers. You can also find them in food and pharmaceutical products.
This particular category is pretty scary, because what does "fragrance" mean anyway? This term was created to protect a company's "secret formula." But as the consumer, you could be putting on a concoction that contains tons of chemicals that are hazardous to your health. According to the Environmental Working Group (EWG) Skin Deep Database, fragrance mixes have been associated with allergies, dermatitis, respiratory distress, and potential effects on the reproductive system. It can be found in many products such as perfume, cologne,
conditioner, shampoo, body wash, and moisturizers.
SLS (Sodium lauryl sulfate) - a carcinogen

Synthetic Colors - link to ADHD in children

Phthalates - endocrine disruptors (banned from toys but not from beauty products)

Triclosan - linked to Thyroid issues & is a skin irritant
Modest estimates have suggested that we are exposed to more than 700,000 different toxic chemicals on a daily basis, and this doesn't include the crazy poisons that GMO companies are pumping into the food supply. According to Global Healing Center, it isn't abnormal to be exposed to 2,100,000 toxins each and every day - and many of them are in the beauty products that we use every day.
Young Living's Beauty products are formulated without fragrance, gluten, parabens, phthalates, synthetic fragrance, sulfates, petroleum, mineral oil, or any of the thousands of potentially problematic ingredients.