It's the most wonderful time of the year! We are so excited for this year's holiday sale - the new limited-time Duet Diffuser, the relaunch of the Simplified Fall Collection, and savings on specially curated, exclusive holiday essentials sure to inspire wellness all year long!! Get your shopping done early, snag your favorites at a discount and give the gift of wellness this year.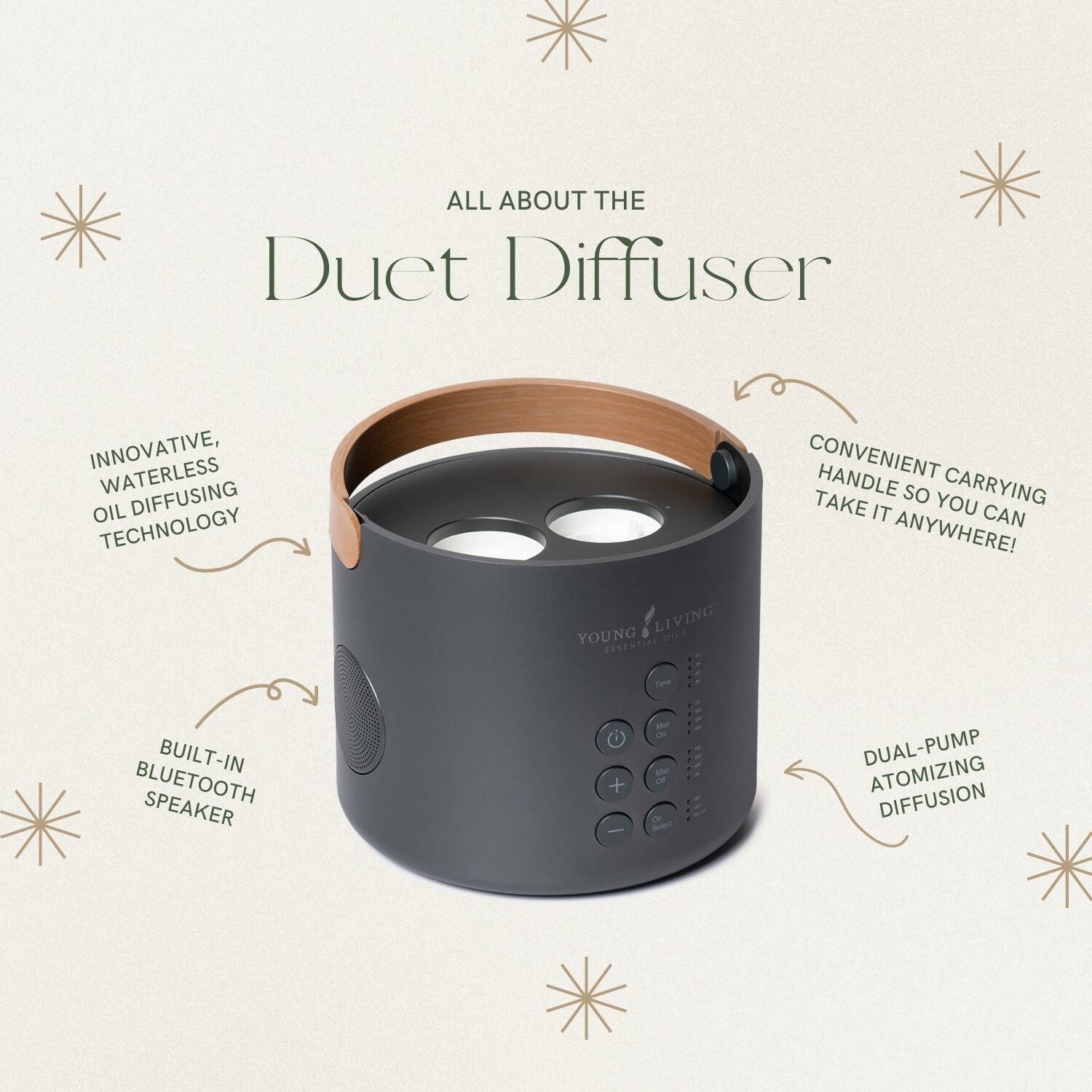 Fill your home with the scents of the season with the final drop of the Simplified: Fall Collection and fall/winter essentials like Christmas Spirit, Cassia and Evergreen Essence! These favorites will have you walking in a winter wonderland for sure…
Duet Diffuser with Citrus Fresh & Lavender Item 43043 :: $200.00 Wholesale, $263.16 Retail :: 75 PV From the moment we wake until we fall asleep, our lives are filled with so many sensations, from the noise of traffic to the internal noise of emails, notifications, and to-do lists. It's overwhelming to have so much vying for your attention!
Enter: The Duet Diffuser. The Duet Diffuser puts the power over your sensory experience back in your hands. With its innovative, waterless oil diffusing technology and convenient carrying handle, the Duet Diffuser can go just about anywhere, while the built-in Bluetooth speaker and dual-pump atomizing diffusion help you to take back control over your senses no matter where you are.
The sophisticated, sleek design of this diffuser is luxe and high-end; but the true luxury is its ability to shut out the noise in your world, allowing you to engage with your five senses with intention. Create your scent symphony with the Duet Diffuser before it's gone for good!
Simplified by Jacob & Kait: Fall Collection
Item 42032 :: $100.00 Wholesale, $131.58 Retail :: 100PV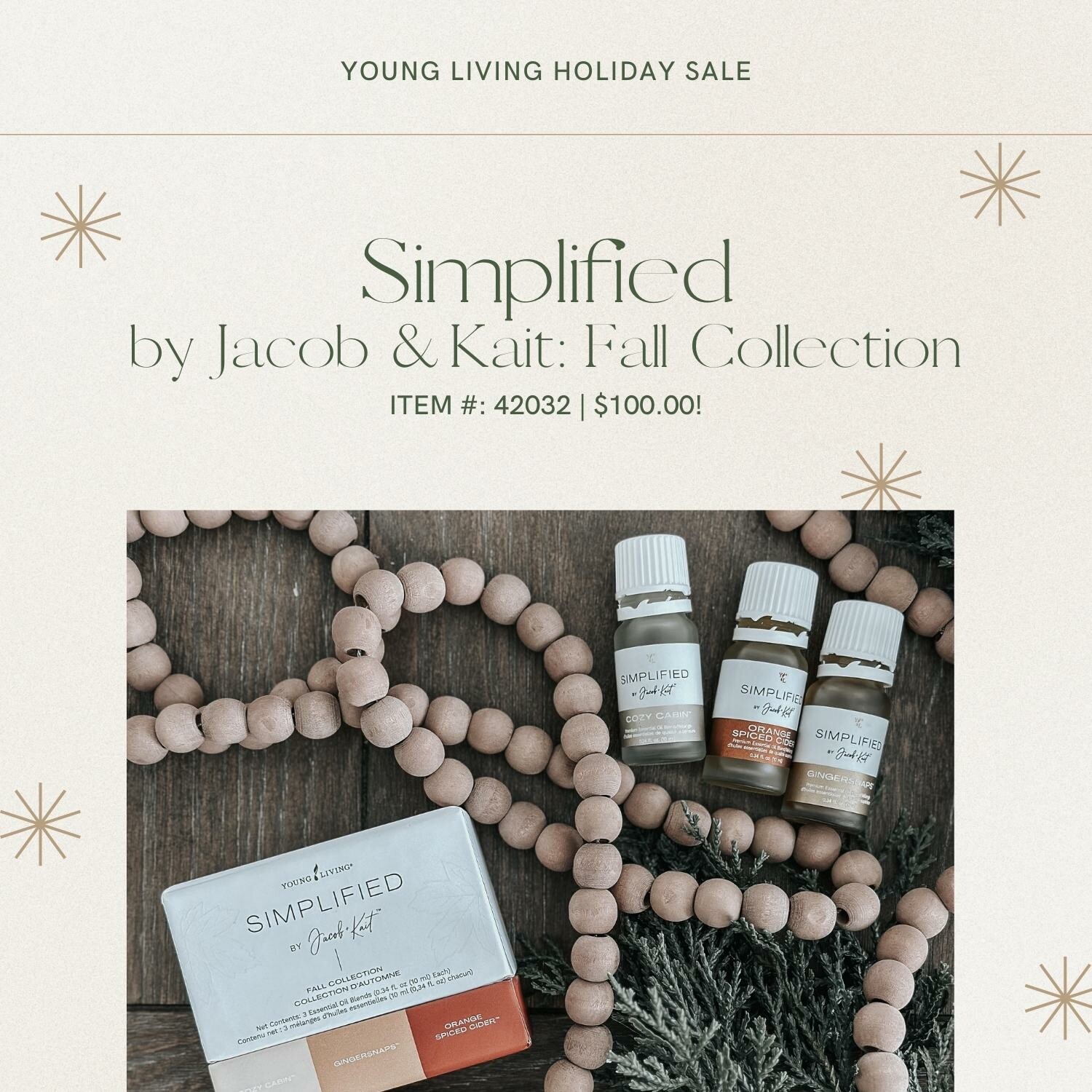 While many fall-scented candles and air fresheners contain harmful chemicals that can pollute your home, these blends are made exclusively with good, clean ingredients straight from nature. All the goodness of an autumn candle with none of the toxins!
Cozy Cabin essential oil blend, 10mL
Gingersnaps essential oil blend, 10mL
Orange Spiced Cider essential oil blend, 10mL
Cassia Essential Oil, 15mL Item 33499 I Now $25.75 Wholesale, $33.88 Retail I 25.75 PV This sweet cinnamon variety is perfect for all your autumn and winter diffusing, DIYs and crafts. Add a drop to any prous decor, add to Thieves cleaner, and diffuse all season long.
Christmas Spirit Essential Oil Blend, 15 mL
Item 3315 I Now $24.75 Wholesale, $32.57 Retail I 24.75PV
Cinnamon and Spruce and Orange, oh my! This blend is THE quintessential fall and winter scent and is perfect for diffusing and DIYs!
Charcoal Lantern Diffuser Item 25733 I Now $112.00 Wholesale, $147.37 Retail I 57PV The beloved Lantern Diffuser - in charcoal! This diffuser is perfect for fall and winter decor, with a slight cottage-inspired vibe.
Citrus Frost Lip Balm SOLD OUT
Vanilla Mint Lip Balm SOLD OUT
FAVORITE OILS & BLENDS - up to 40% off!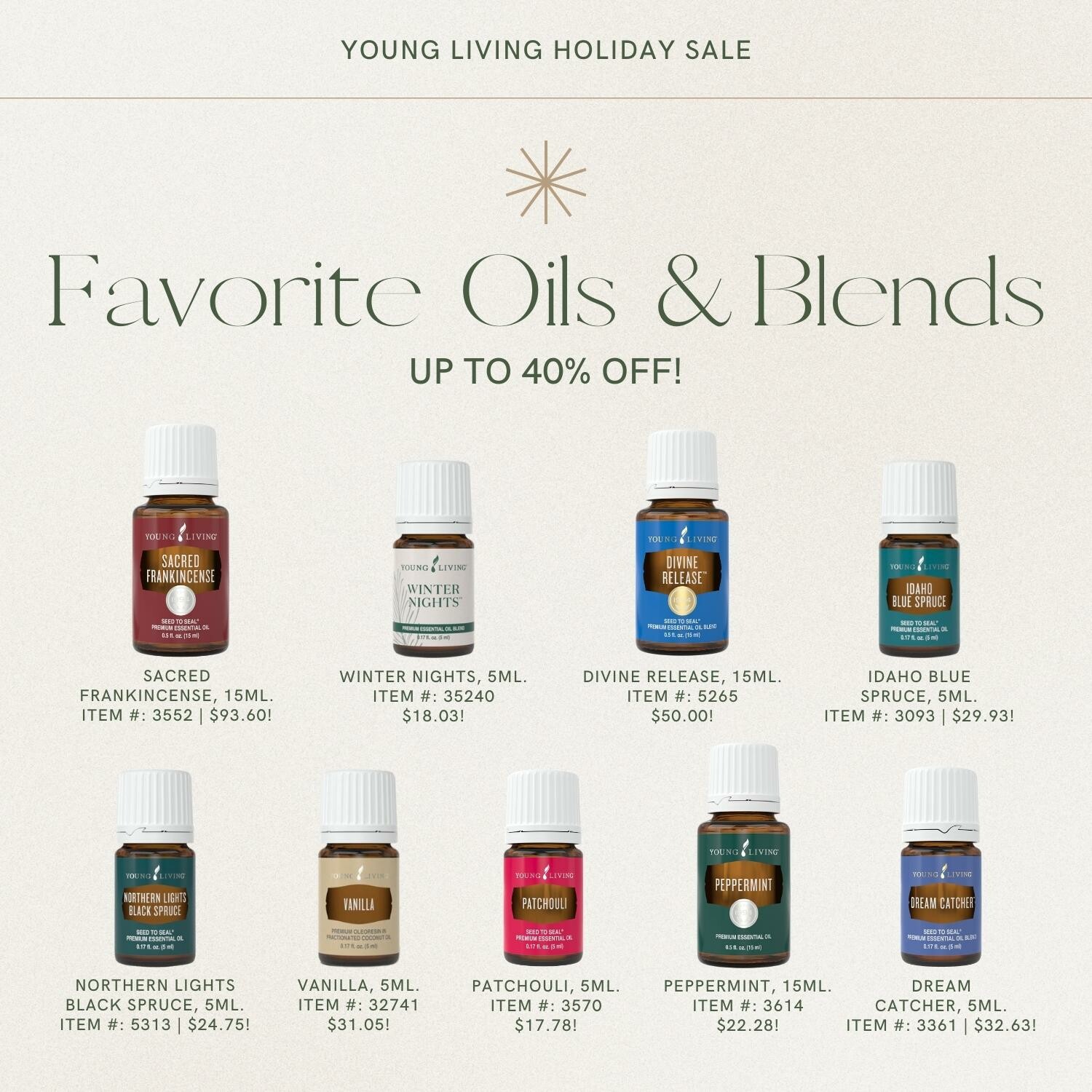 Vanilla and Peppermint and Spruce, oh my! These seasonal favorites are sure to fill your home with the aromas of the season, and they are the perfect gift for the DIYers on your list.
Sacred Frankincense Essential Oil, 15mL Item 3552 I Now $93.60 Wholesale, $123.16 Retail I 93.6PV Originally $104 Wholesale, $136.84 Retail I 104PV Sacred Frankincense has a grounding, woodsy aroma that is perfect for the season. This powerhouse oil is also great for immune health and radiant skin!
Winter Nights Essential Oil Blend, 5mL Item 35240 I Now $18.03 Wholesale, $23.72 Retail I 18.03PV Originally $25.75 Wholesale, $33.88 Retail I 25.75PV Winter Nights essential oil blend combines the cool, inviting scents of Northern Lights Black Spruce, Peppermint, ::, and Orange. Diffuse this blend all season long or add it to your favorite festive DIYs!
Divine Release Essential Oil Blend, 15mL Item 5265 I Now $50.00 Wholesale, $65.79 Retail I 50PV Originally $82.00, $107.89 Retail I 82.00PV An emotionally supportive blend of Royal Hawaiian Sandalwood, Roman Chamomile, Frankincense, and Melissa that is perfect for this season of family and gatherings.
Idaho Blue Spruce Essential Oil, 5mL Item 3093 I Now $29.93 Wholesale, $39.38 Retail I 29.93PV Originally $33.25 Wholesale, $43.75 Retail I 33.25PV Idaho Blue Spruce has a grounding, evergreen aroma that invokes the feeling of a peaceful forest. It is amazing diffused, makes a great cologne, and is wonderful for tired muscles too!.
Northern Lights Black Spruce Essential Oil, 5mL Item 5313 I Now $24.75 Wholesale, $32.57 Retail I 24.75PV Originally $27.50 Wholesale, $36.18 RetailII 27.50PV NLBS is a crowd favorite for good reason. This spruce oil has a darker, earthier scent that is reminiscent of a campfire. NLBS is wonderful diffused and in seasonal DIYs, and is also great for your winter skin!
Vanilla Essential Oil, 5mL Item 32741 I Now $31.05 Wholesale, $40.86 Retail I 31.05PV Originally $34.50 Wholesale, $45.39 Retail I 34.50PV A quintessential fall and winter scent, Vanilla feels like a big, warm hug! Diffuse it, use it in your seasonal DIYs, and add to your Thieves Cleaner!
Patchouli Essential Oil, 5mL Item 3570 I Now $17.78 Wholesale, $23.39 Retail I 17.78PV Originally $19.75 Wholesale, $25.99 Retail I 19.75PV Patchouli is a must have in your oil arsenal. This earthy oil is great dry skin and blemishes, promotes a feeling of calm, and is a wonderful addition to perfume rollers!
Dream Catcher Essential Oil Blend, 5mL SOLD OUT (15ml still in stock but not part of the sale)
Peppermint Essential Oil, 15mL Item 3614 I Now $22.28 Wholesale, $29.31 Retail I 22.28PV Originally $24.75 Wholesale, $32.57 Retail I 24.75PV Can you do the holidays without Peppermint?! This crisp, bright oil makes a wonderful addition to Vanilla in the diffuser and DIYs, plus it helps keep bellies happy with all the feasting and indulging of the season!
Seed to Seal Collection Item 24279 I Now $42.00 Wholesale, $55.26 Retail I 42.00PV Originally $70.00 Wholesale, $92.11 Retail I 70.00PV With this exclusive collection, experience three powerhouse oils that you can use throughout your daily life. This kit includes limited-edition 10 ml bottles of:
Lavender essential oil
Peppermint essential oil
Tea Tree essential oil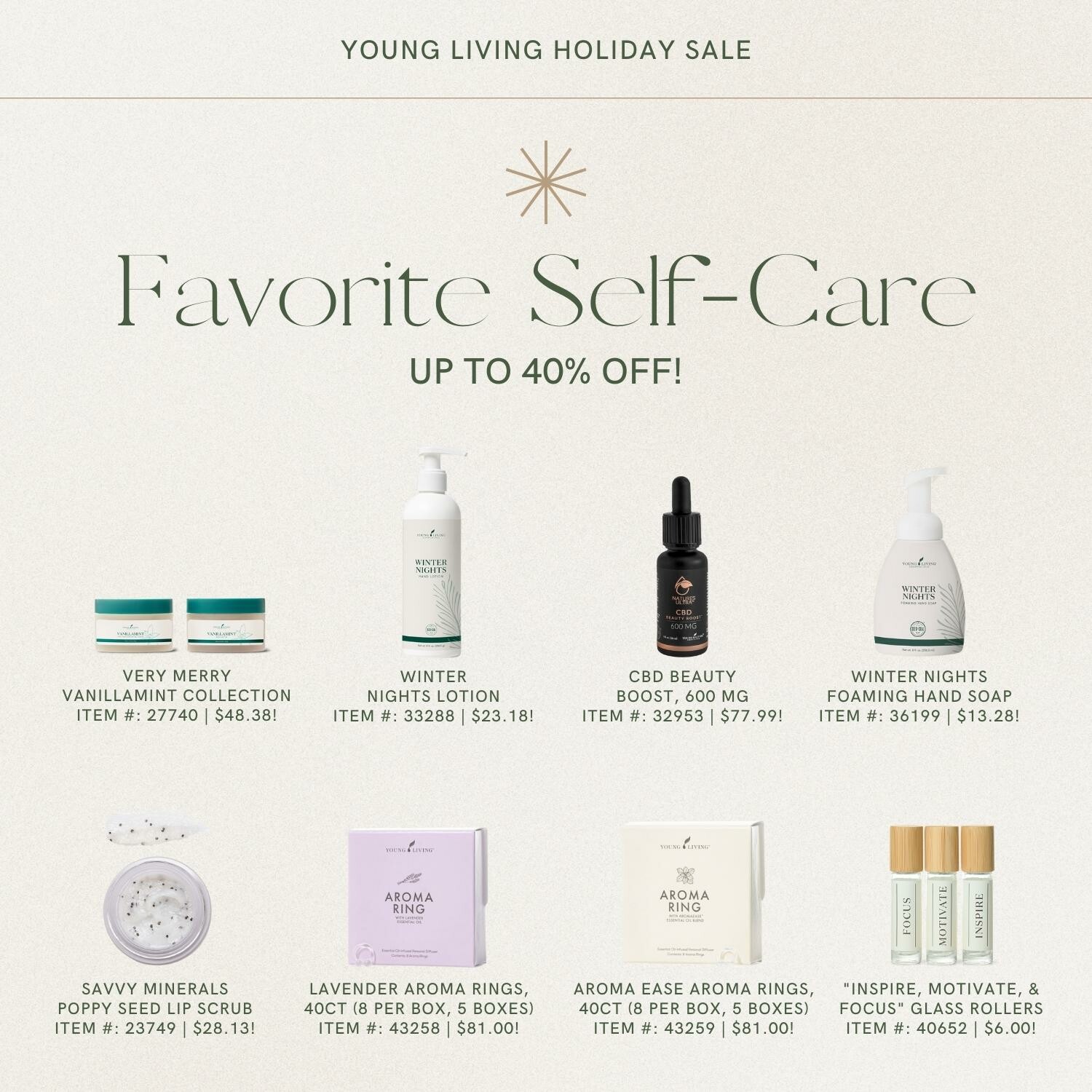 Grab some self-care essentials like CBD Beauty Boost and bath bombs for yoruself and for the skincare lovers on your list. And don't forget the crowd favorite Vanillamint Collection that only comes around once a year!
Very Merry Vanillamint Collection Item 27740 I Now $48.38 Wholesale, $63.65 Retail I 48.38PV Originally $53.75 Wholesale, $70.72 Retail I 53.75PV Say hello to silky skin this winter with the Very Merry Vanillamint Pink Himalayan Sea Salt Scrub and Body Butter! This collection is pure luxury without the high price tag.
Pink Himalayan sea salt sourced directly from the Himalayan mountains delivers luxurious exfoliating minerals to your bath for ultimate relaxation
Moisturizing ingredients like mango seed and cupuacu seed butters deliver deep, long-lasting moisture for soft, silky skin Collection includes:
Pink Himalayan Sea Salt Scrub, 2 oz.
Vanillamint Body Butter, 2 oz.
Winter Nights Foaming Hand Soap Item 36199 I Now $13.28 Wholesale, $17.47 Retail I 13.28PV Originally $14.75 Wholesale, $19.41 Retail I 14.75PV Infused with Northern Lights Black Spruce, Cedarwood, Peppermint and Orange essential oils, this unique blend brings the feel of softly falling snow, the peace of crisp midnight air in winter, and the warmth of cozy spaces.
Winter Nights Lotion Item 33288 I Now $23.18 Wholesale, $30.49 Retail I 23.18PV Originally $25.75 Wholesale, $33.88 Retail I 25.75PV Our favorite exclusive Winter Nights essential oil blend in a perfectly festive hand lotion! Northern Lights Black Spruce, Peppermint, Cedarwood, and Orange infuse Winter Nights Hand Lotion with wintry scents that are a delight any time of year.
Specifically designed to pamper dry skin, including problem areas like elbows, hands, and heels
Mango butter, watermelon seed oil, and apple extract help protect the skin's natural moisture barrier and leave skin feeling soft and smooth
BATH BOMBS! Give your skin (and yourself!) some TLC with these crowd favorite bath bombs! All of the good stuff and none of the toxins.
Lavender Calming Bath Bombs, 4 ct Item 20671 I Now $24.65 Wholesale, $32.43 Retail I 24.65PV Originally $29.00 Wholesale, $38.16 Retail I 29.00PV Relaxing and calming and perfect to break up into individual gifts!
Stress Away Relaxing Bath Bombs, 4 ct Item 20674 I Now $24.65 Wholesale, $32.43 Retail I 24.65PV Originally $29.00 Wholesale, $38.16 Retail I 29.00PV Infused with the beloved Stress Away blend, these are a favorite year round.
Sweet Maple Bath Bombs, 3 ct Item 38609 I Now $31.88 Wholesale, $41.94 Retail I 31.88PV Originally $37.50 Wholesale, $49.34 Retail I 37.50PV The maple scent is a mix of Tahitian tamanu and Vanilla oleoresin from Madagascar that blends with warm notes from Cassia, Nutmeg, and Clove plus a light twist of sweet Lemon - perfect for the cooler weather!
CBD Beauty Boost, 600 mg Item 32953 I Now $77.99 Wholesale, $102.62 Retail I 77.99PV Originally $91.75 Wholesale, $120.72 Retail I 91.75PV HELLO luxe beauty! Each dropper of CBD Beauty Boost contains the essential oils from one full Damask rose and is our favorite skincare product around.
Savvy Minerals Poppy Seed Lip Scrub Item 23749 I Now $28.13 Wholesale, $37.01 Retail I 28.35PV Originally $31.25 Wholesale, $41.12 Retail I 31.50PV Gently exfoliate and moisturize winter lips with this plant-based, oil-infused lip scrub!
AROMA RINGS These aroma rings are like a personal diffuser that fits discreetly on your nose or ear for personal aromatherapy on the go! Each Aroma Ring is individually packaged and ready to use whenever and wherever you need it. Lavender is great for daily use, yoga or anything you need calming, while Aroma Ease is our go-to for travel and motion-induced discomfort.
Lavender Aroma Rings, 40ct (8 per box, 5 boxes) Item 43258 I Now $81.00 Wholesale, $106.58 Retail I 64.50PV Originally $135.00 Wholesale, $177.65 Retail I 107.50PV
Aroma Ease Aroma Rings, 40ct (8 per box, 5 boxes) Item 43259 I Now $81.00 Wholesale, $106.58 Retail I 64.50PV Originally $135.00 Wholesale, $177.65 Retail I 107.50PV
"Inspire, Motivate, & Focus" Glass Rollers Item 40652 I Now $6.00 Wholesale, $7.89 Retail I 0 PV Originally $15.00 Wholesale, $19.74 Retail I 0PV Beautiful glass rollers for making all your favorite roller blends of the season!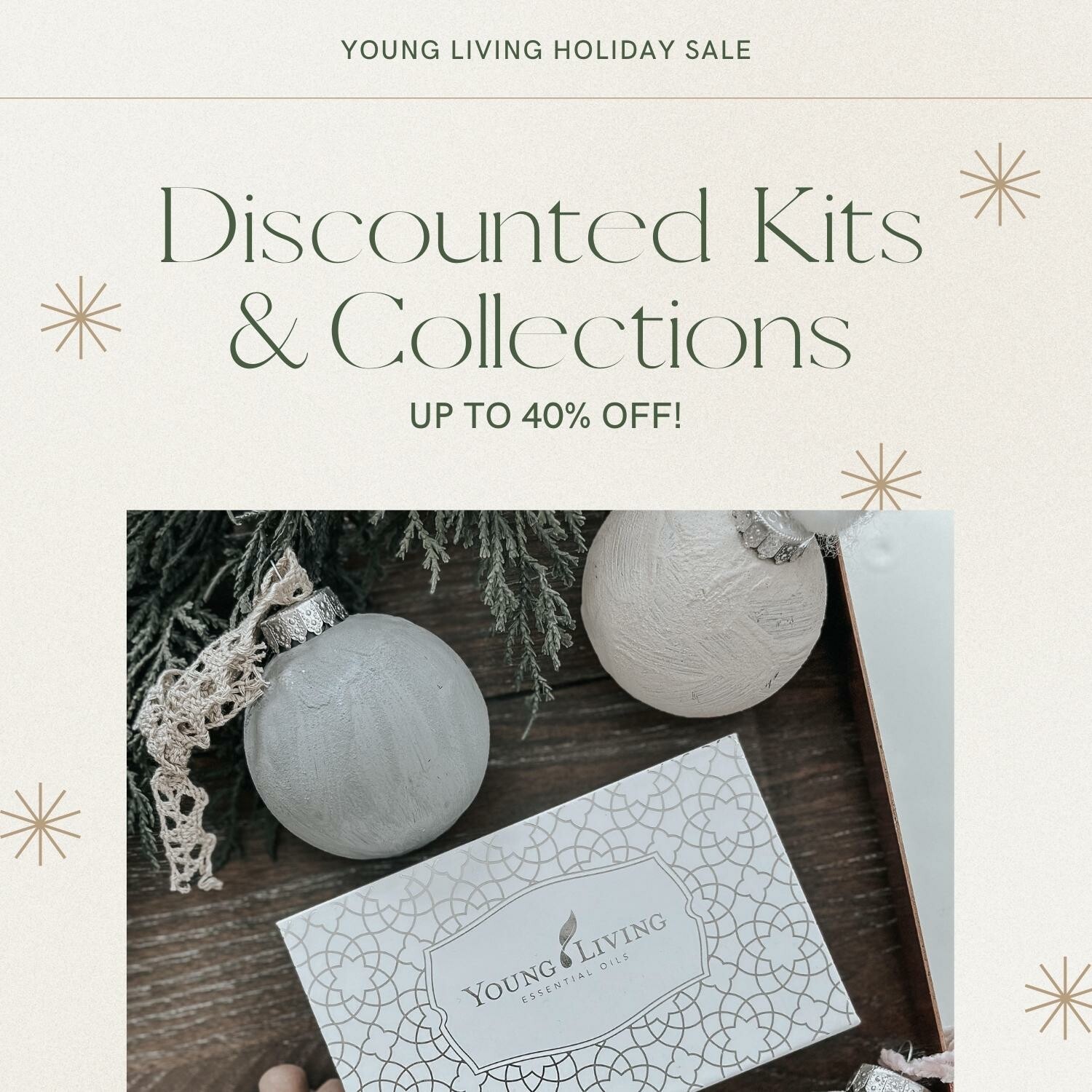 All our favorites - the Mini Aria with festive scents, artisan-made olive wood trees, everything you need for an at home spa, and even favorites for kids!
Wish You Well Collection Item 33427 I Now $43.14 Wholesale, $56.76 Retail I 37.40PV Originally $50.75 Wholesale, $66.78 Retail I 44PV Freshen up any environment with this collection designed to help you and your family stay comfortable, purify air from stuffy odors, and support healthy airways.
DiGize Vitality essential oil blend, 5 ml
R.C. essential oil blend, 5 ml
Thieves essential oil blend, 5 ml
Aroma Ring with AromaEase
Travel zipper pouch
Olive Wood Massage Kit Item 39905 I Now $30.81 Wholesale, $40.54 Retail I 18.06PV Originally $36.25 Wholesale, $47.70 Retail I 21.25PV This handmade olive wood massaging tool was sustainably crafted by local artisans using olive tree branches in Bethlehem. Use it with the included Eucalyptus Globulus and V-6 Vegetable Oil Complex to pinpoint pressure points and relieve tired muscles.
The Holy Land Handicraft Cooperative in Bethlehem provides fair-trade wages and stable employment to those in economically unstable circumstances. But as travel restrictions began to take place in 2020, many artisan groups shut down due to the lack of work. Creating and selling unique olive wood products enables these families to stay in their homeland, earn a living, and provide opportunities for their children.
Handmade, Artisan Olive wood massaging tool
Eucalyptus Globulus essential oil, 15 mL
V-6 Vegetable Oil Complex, 2 oz. (exclusive size)
Serenity Now Collection Item 33418 I Now $61.84 Wholesale, $81.37 Retail I 56.10PV Originally $72.75 Wholesale, $95.72 Retail I 66.00PV Create a calm and tranquil environment no matter where you are with the Serenity Now Collection!
Lavender essential oil, 5 mL
Peace & Calming essential oil blend, 5 mL
Stress Away essential oil blend, 5 mL
Aroma Ring with Lavender
Product information booklet
Travel zipper pouch
To The Rescue Collection Item 33423 I Now $72.00 Wholesale, $94.74 Retail I 66.60PV Originally $90.00 Wholesale, $118.42 Retail I 83.25PV Keep this collection on hand for essential solutions for your family's daily unknowns! The To The Rescue Collection includes:
Deep Relief essential oil blend, 5 ml
DiGize Vitality essential oil blend, 5 ml
M-Grain essential oil blend, 5 ml
Stress Away essential oil blend, 5 ml
Thieves essential oil blend, 5 ml
Aroma Ring with Lavender
Aroma Ring with AromaEase
Travel zipper pouch
Wooden Tree Collection Item 39895 I Now $36.00 Wholesale, $47.37 Retail I 18.00PV Originally $60.00 Wholesale, $78.95 Retail I 30.00PV Handcrafted in northern India by women of the Sasha Artisan Network, these decorative trees add a touch of holiday charm to your coffee table or mantlepiece. Put a drop of the included White Angelica on each one to fill the air with the warm, woodsy scents of Myrrh, Northern Lights Black Spruce, and Sacred Sandalwood.
Wooden Tree Collection
White Angelica essential oil blend, 5 mL
For more than 40 years, the Sasha Artisan Network has been bringing Indian artisans together to create stunning handicrafts like these acacia wooden trees. Sasha was created to build prosperity by providing income- generating opportunities to nearly 100 artisan groups and to promote fair trade as a way of life. Women in these groups live in underserved rural areas of northern India. Members of Sasha now benefit from skills training, consistent work, stable income, financial savings, insurance, and access to health care and education.
Macaron Collection Item 39624 I Now $103.31 Wholesale, $135.94 Retail I 47.06PV Originally $137.75 Wholesale, $181.25 Retail I 62.75PV Gather around and spread some cheer with the Macaron Diffuser and breathe in the welcoming aromas of Evergreen Essence, Orange, and Cassia! With three different run times to choose from, the beautiful ceramic Macaron Diffuser can operate continuously for two or eight hours or up to sixteen hours intermittently.
Macaron Diffuser
Evergreen Essence essential oil blend, 15 mL
Orange essential oil, 15 mL
Cassia essential oil, 15 mL
Mini Aria Collection Item 39623 I Now $162.14 Wholesale, $213.34 Retail I 55.89PV Originally $190.75 Wholesale, $250.99 Retail I 65.75PV This limited-edition glass and walnut-stained diffuser comes with built-in Bluetooth speakers for your smartphone, so you can play holiday music while you diffuse. It also features a warm white light and can be set to run for one hour, four hours, or eight hours with an intermittent one-minute-on/one- minute-off mode! Collection includes:
Mini Aria Ultrasonic Diffuser
Christmas Spirit essential oil blend, 15 ml
Peppermint essential oil, 5 ml
Vanilla oleoresin, 5 ml
Holiday Home Cleaning Kit Item 39629 I Now $61.13 Wholesale, $80.43 Retail I 34.88PV Originally $81.50 Wholesale, $107.24 Retail I 46.50PV Simplify your holiday prep with a little help from Thieves Household Cleaner and an exclusive 15 ml bottle of Christmas Spirit essential oil blend. Use these festive favorites to mix up a holiday-scented household cleaner in the included amber spray bottle.
Thieves Household Cleaner, 14.4 oz.
Christmas Spirit essential oil blend, 15 ml
Household cleaner spray bottle
Reusable YL dish cloth, 2 pk.
Winter Nights Wonderland Collection Item 40022 I Now $39.69 Wholesale, $52.22 Retail I 39.69PV Originally $46.69 Wholesale, $61.43 Retail I 46.69PV Make the brisk winter air come alive with the Winter Nights Wonderland Collection. Warm hearts and freshen homes when you gift this trio of crisp- and cozy-scented essentials or cozy up your own home with these three favorites!
Winter Nights Foaming Hand Soap
Winter Nights Hand Lotion
Winter Nights essential oil blend, 5 ml
Bloom Collection Item 40021 I Now $90.00 Wholesale, $118.42 Retail I 70.20PV Originally $100.00 Wholesale, $131.58 Retail I 78.00PV Who needs a trip to the spa when you have this incredible facial collection?
BLOOM Brightening Cream:

Features the Sheerlumé Brightening Complex, a combination of premium essential oils that include Royal Hawaiian Sandalwood, Carrot Seed, Blue Cypress, Davana, Geranium, and Jasmine
Brightens the skin and gives a radiant glow while helping restore the appearance of an even skin tone
Hydrates the skin and strengthens the moisture barrier
Reduces the appearance of dark spots and provides the skin with a smoother texture
Contains antioxidants and helps minimize the appearance of future damage

Spa headband
Jade gua sha stone
Facial cleansing pads, 3 pk.
Mesh pouch
Monkey Stuffie Collection Item 39975 I Now $58.80 Wholesale, $77.37 Retail I 20.30PV Originally $84.00 Wholesale, $110.53 Retail I 29.00PV The snuggly monkey stuffie and SleepyIze Roll-On are the cozy bedtime duo your child needs for a serene night's sleep. The stuffie comes with a removable lavender-vanilla microwavable pouch and a birth certificate for your child to give their cuddly new pal a name.
Monkey stuffie
SleepyIze Roll-On, 10 ml
Birth certificate and instruction card for stuffie
Holiday Home Collection Item 40026 I Now $159.12 Wholesale, $209.37 Retail I 84.32PV Originally $198.90 Wholesale, $261.71 Retail I 105.40PV Get your home holiday guest-ready with this collection of fresh and festive scents and natural cleaning necessities -- with a 15% discount versus purchasing individually!
Macaron Collection
Holiday Home Cleaning Kit
Christmas Spirit Foaming Hand Soap
Essence of the Season Item 3118 I Now $78.20 Wholesale, $102.89 Retail I 78.20PV Originally $92.00 Wholesale, $121.05 Retail I 92.00PV Essence of the Season is a combination of uplifting and festive, seasonal scents that can be used during the holidays or year-round to invoke memories of the special season.
Christmas Spirit essential oil
Frankincense essential oil
Myrrh essential oil
Frankincense gum resin
Myrrh gum resin
Nepalese Wool Dryer Balls Item 35328 I Now $30.00 Wholesale, $39.47 Retail I 20.00PV Originally $50.00 Wholesale, $65.79 Retail I 20.00PV Replace your dryer sheets with ethically sourced, organic, dye-free wool dryer balls in a 100 percent cotton carrying bag. These reusable dryer balls, which reduce your global footprint in a simple yet effective way, cut drying times by 5–10 minutes and can be repurposed as fabric refreshers in your drawers and closets.
4 Wool Dryer Balls
Cotton Carrying Bag
Lavender essential oil, 5mL
Bergamot essential oil, 5mL
DISCOUNTED DIFFUSERS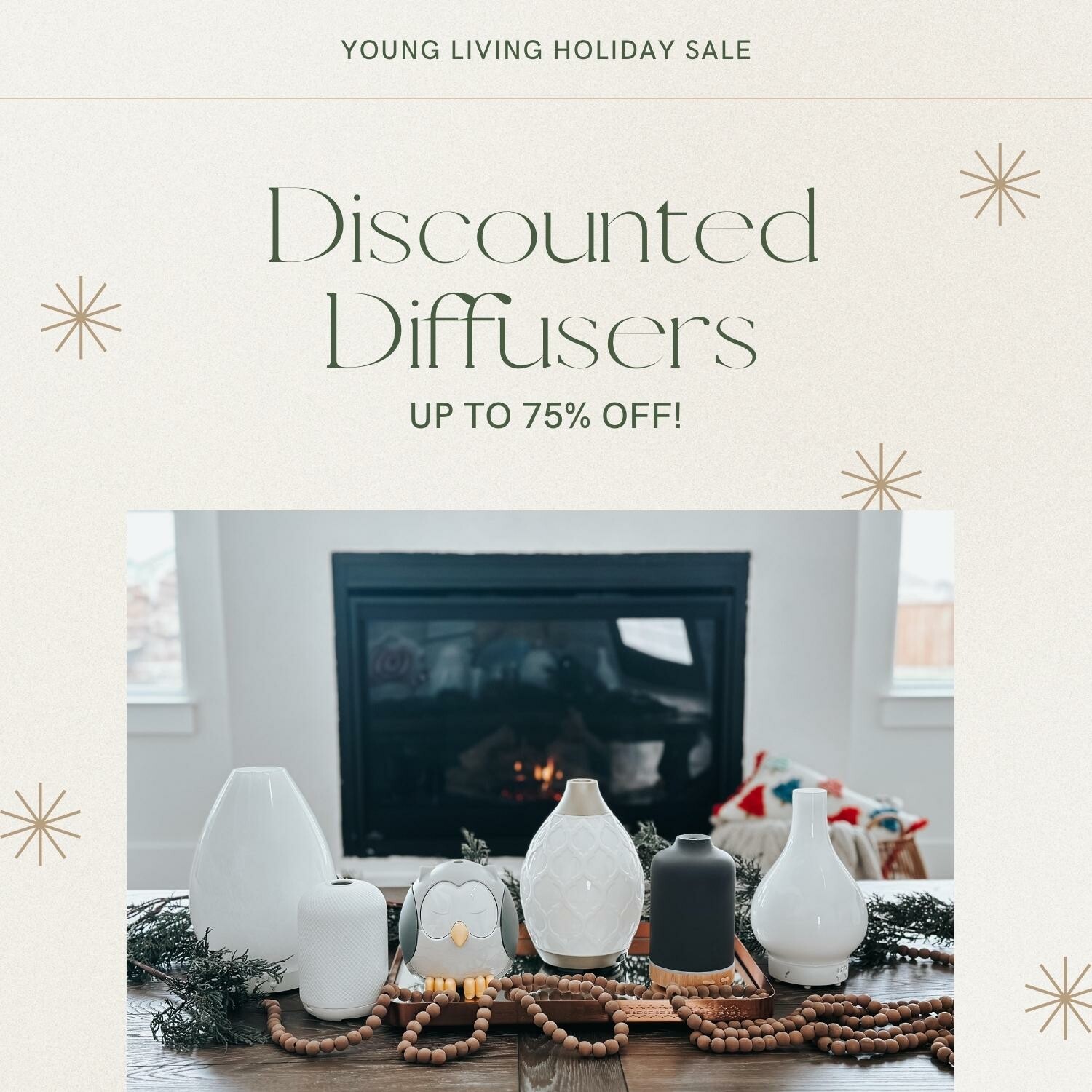 note: complimentary oils are not included with diffusers Diffusers for you, and you and you… and everyone on your list! Get one for yourself, and give one to a friend. These are great for neighbor and teacher gifts too! Add in a bottle of Vanilla and Peppermint and you have the perfect gift!
Desert Mist Diffuser The Desert Mist is one of our favorite diffusers! White and gold with a slightly boho vibe, this diffuser fits just about any space. Item 21558 I Now $15.00 Wholesale, $19.74 Retail I 0PV
Desert Mist Diffuser, 2 pack

Item 40521 I Now $20.00 Wholesale, $26.32 Retail I 0PV

Desert Mist Diffuser Case, 6 pack ($8/each)

Item 43237 I Now $48.00 Wholesale, $63.16 Retail I 0PV
Ember Diffuser SOLD OUT
Feather the Owl Diffuser SOLD OUT
Haven Ceramic Diffuser SOLD OUT
Lucia Diffuser SOLD OUT
Lustre Diffuser SOLD OUT
MORE DETAILS
U.S. Customers and Brand Partners can start ringing in these holiday specials at 9 a.m. MT, on October 17.
This offer is available from October 17 at 9 a.m, MT, through October 24 at 11:59 p.m., MT.
Brand Partners and Customers in the U.S. Market may participate. This is NOT available for NFR
This offer is available on One-time orders only.
Discount applies to price and PV.
No order limits.